Yeah, you guys should have known this was coming!! I went to the Dark Knight Rises Midnight premier with my best friend and wanted to wear really awesome makeup to celebrate. So I decided to paint the bat symbol on my face! I paired it with gothic red lips to add a bit of Catwoman in it.
How To:
First I started off by priming the entire area, then added my shadows(silver & black) and blended it out. Added liner and false lashes then proceeded to draw the bat symbol with gel liner, blending it into the black shadow so there was a smooth transition. I then set the liner with black eyeshadow, outlined the shape in glitter and painted my lips red, using a bit of black shadow to contour.
Lime Crime Eyeshadow Helper
NYX Jumbo Eye Pencil - Milk
Sleek Bad Girl Palette - Innocence, Blade & Noir
NYX e/s - Grey
Sugarpill e/s - Tako
Maybelline Gel Liner - Blackest Black
Loreal Chrome Eyeliner - Black Shock
Maybelline Turbo Mascara
Sonia Kashuk l/l - China Red
MUG l/s - Ravishing & Luscious
Then I got decked out in my Batman shirt, leather jacket and glow in the dark Batman belt buckle :D
I have a funny/pathetic story for you guys. When me and my friend were climbing up the stairs to find a seat this random tween shouted at me "ARE YOU CATWOMAN!" I was very polite about it and just agreed with her as to not make her feel like an idiot. But seriously!? She was at a midnight premier and can't tell the difference between Batman and Catwoman!? lol Made me laugh. Our theatre was full of college guys who continuously tried to sound like Batman(you know, shouting with a husky voice) but it was just bad. They all failed and just sounded like a dying lion or something. Would not shut up in the slightest till the movie started.
But what was cool was some people dressed up as the cartoon joker and proceeded to compete for a free Dark Knight Rises poster. The best Joker impersonation won. And they were pretty good except for one of them wore a red suit and mumbled the entire time. Needless to say, he didn't get a poster lol.
As for the film, I have seen it twice so far and OMG it is amazing!! I don't think it was better than The Avengers but it was still pretty friggin good. Tom Hardy as Bane is one sexy mofo and Anne Hathaway as Catwoman was amazing!! The best Catwoman to date. She was such a fiend but all was good. Did you see The Dark Knight Rises? What did you think? What is your favorite Batman film? I think mine would still be The Dark Knight because Heath Ledger as the Joker was the best performance ever. Defiantly in my top 5 Villains, but so is Bane lol.
I would have posted this look sooner, but I waited to pay respect to all the victims on the Colorado Shooting. I am sure that most of you know about this tragic event, but for those who don't, let me fill you in. In Aurora, Colorado US at 12:30 Am on July 20th 2012 and man opened fire to a full theater at The Dark Knight Rises Midnight showing. He killed 12 innocent people ranging from 6 months to 60 years old. He not only killed but he injured another 50+ people who were in the theatre, Reports say that he released a smoke bomb and the proceeded to open fire using three different guns, He was covered from head to toe in full tactical gear. The audience originally thought it was a part of the movie but quickly realized what was happening. It was a tragic event and when I found out I couldn't help thinking "that could have been my theatre". It is a scary thought that nowhere in the public is safe from these types of people.
But one remarkable thing did come from this. It certainly doesn't make up for what happened but it helped shed light on an awful situation. Christian Bale(actor of Batman) showed up to pay homage to the victims in Aurora a few days ago and he rested flowers upon the grave site.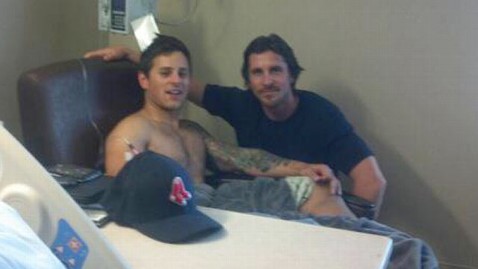 "

A hero can be anyone. Even a man doing something as simple and reassuring as putting a coat around a little boy's shoulders to let him know that the world hadn't ended." - Batman
So I just want to take a moment to pay respect to all the victim of the Colorado Shooting. Rest In Peace to those who have died and keep pushing
forward
and have hope to those who were injured. ♥